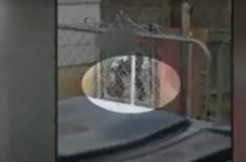 A woman recorded a dog being beaten, but police said no one is getting charged. A Stephenville, Texas woman posted a video to Facebook. It showed a boy and his sister hitting a neighbor's dog.
"My thoughts were: That poor child has to have been through hell to be able to do that to an animal," the woman told CBS DFW, immediately taking this story to a darker place than before. (She did not want to be identified.) "He didn't just naturally do that, he had to learn it from somewhere."
But cops said nobody is going to get charged (please note the video is disturbing to watch):
The boy is under 10. Authorities said he's too young to face charges, even though he technically committed animal cruelty. And the parents won't be responsible either. They reportedly didn't know the beating was happening.
The woman who taped the beating told CBS DFW that cops asked her to take the video down. And she refused. She wouldn't remove the clip until the dog is in a safer place, and the boy gets some sort of counseling.
And maybe that time is now. In a statement, the Stephenville Police said that the dog's owner gave up ownership of the doggie, who is being put up for adoption with the Erath County Humane Society.
The ECHS said they're assessing the pup for adoption. "We will post when he becomes available for adoption, and anyone interested will need to complete an adoption application." They promised to make sure the doggie will go to a safe home.
–
>> Follow Alberto Luperon on Twitter (@Alberto Luperon)
Have a tip we should know? [email protected]