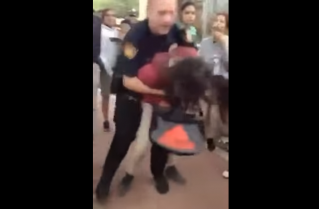 An investigation is underway after footage surfaced of a San Antonio school police officer manhandling a 12-year-old female student, throwing her to the ground on a brick walkway outside the school.
It is still unclear what led up to the incident, and the police department is currently looking into it, KSAT reported. Some students told KSAT that the girl and another female student were engaged in a confrontation, and that Officer Joshua Kehm tried to break it up peacefully, and threw the girl down after she kicked him.

The girl tells a different story and denies kicking Officer Kehm. She says that on the day of the incident, March 29, she and another student were meeting to talk. She says there was no fighting going on, although the vice principal asked them to separate, and she was later suspended for two days over the incident.
The student's mother, Gloria Valdez, asked the school what happened, but did not get much in terms of answers, KSAT said. Her daughter suffered a bruise and swelling near her right eye. Officer Kehm is on paid administrative leave while the investigation is still underway.
[h/t NY Daily News, image via screengrab]
Have a tip we should know? [email protected]