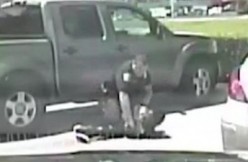 Recently released video shows the shocking arrest of 26-year-old Breaion King in Austin, Texas. She was slammed to the ground by police during a traffic stop, then was later told that black people have "violent tendencies." Now Chief of Police Art Acevedo has publicly apologized on behalf of his officers.
The Austin-American Statesmen spoke to King about the June 15, 2015 incident. She said she'd just left a teaching job when Officer Bryan Richter pulled her over, apparently for speeding.
As seen on video, Richter stepped up to the driver's side of her car, and questioned her.
"Put your feet back in your car so that I can close the door, please," he told her. What changed his mind is not visible on tape, but he then told her to step out of her car. Things escalated, and he straight up body slammed her to the ground several times.
"Put your hands behind your back," he said as he struggled with her.
"That's what I was doing," she said.
Other officers made it to the scene by the time she was handcuffed.
"I need a black police," she told the white cops. "Because you're full of bullshit."
You can see it here in video obtained by The Statesman.
Richter told one of the other officers that he manhandled King in self-defense.
"She swung at me, though," he said. In her interview with The Statesmen, King claimed she could not remember ever attacking him.
The story doesn't end there. King reportedly demanded a ride with another cop, not Richter, and questioned this other officer. As depicted in separate police footage, she believed the violent arrest was racist, and said as much during the ride to jail.
"Why are so many people afraid of black people?" Officer Patrick Spradin said. "I can give you a really good idea why it might be that way. Violent tendencies."
King was booked with resisting arrest. That case was later dismissed after prosecutors saw the dashcam video.
In an interview with KXAN, Chief Acevedo said he didn't know about the incident until July 19, with a county prosecutor told him about it. Richter faces a criminal investigation over King's arrest.
"I've also ordered an administrative inquiry into the chain of command and how they came to this decision and why it was not kicked up to my level," Acevedo said. He later apologized in a press conference on Thursday: "I'm sorry that on the day you were stopped for going 15 miles an hour, you were approached and treated in a manner that is not consistent with this police chief and department." He later criticized the "violent tendencies" comment: "We're in 2016 and this will not be tolerated."
Richter and Spradlin are on administrative duty while the investigation unfolds.
–
Follow Alberto Luperon on Twitter (@Alberto Luperon)
Have a tip we should know? [email protected]