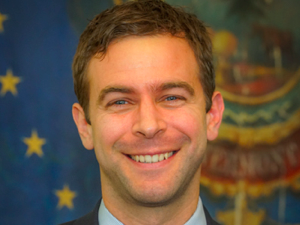 Here's a little political/legal story not getting much attention. It's definitely interesting. A complaint alleges two Vermont DNC delegates (who are Bernie supporters, no less) say they were replaced and can no longer attend the Democratic National Convention because the DNC was trying to achieve "gender balance."
Ken Dean and State Sen. Tim Ashe were reportedly elected to be delegates in June. In an effort to make the Vermont delegation balanced (13 men and 13 woman), the Democratic National Party ordered them replaced.
"The DNC's tactics were designed to strong-arm the Vermont Democratic Party: the party was ordered to act within 24 hours, the party was threatened with the loss of 5 delegate seats, the loss of hotel rooms and the password necessary for convention logistics," the complaint, obtained by the Associated Press, says. "The Vermont delegation was given no time to work together to explore ways, other solutions, to abate the gender imbalance."
The complaint was filed with the DNC by 21 Vermont Democrats (Dean is one of the complainants, Ashe is not). This complaint certainly raises some interesting legal issues.
"The national party appears to be imposing a quota system on delegates based on gender despite the fact that such delegates can claim that they are qualified through the democratic process," George Washington University Law Professor Jonathan Turley wrote in a recent blog post, "The Democratic party leadership appears to be moving away from the fight against gender discrimination in guaranteeing equal opportunity to the fight for gender equality with the use of quotas to force gender balance."
The DNC has not responded to the AP's request for comment.
Have a tip we should know? [email protected]
Rachel Stockman - President / On Air Host