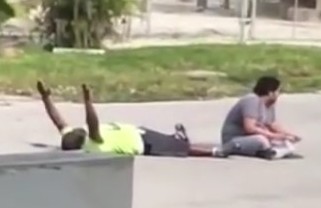 The police officer who shot therapist Charles Kinsey claimed it was an accident, according to his police union. He meant to shoot Kinsey's autistic patient instead.
"It appeared to the officers that the white male was trying to do harm to Mr. Kinsey," John Rivera, president of the Police Benevolent Association in Dade County, told WSVN on Thursday. "In fearing for Mr. Kinsey's life, the officer discharged his firearm trying to save Mr. Kinsey's life and he missed."
Video released Wednesday showed Kinsey pleading with North Miami police officers before getting shot. He was laying on the ground next to an autistic patient who escaped from a group home. Kinsey told officers the man wasn't dangerous, and was only holding a toy truck. In the video, he can also be seen telling the resistant patient to get on the ground.
But Kinsey, who is black, was shot in the leg and hospitalized. The incident gained a lot of attention because of recent events: 1) multiple high-profile shootings of black men by cops, and 2) horrific anti-cop violence done in protest.
In a statement released Thursday, the North Miami Police Department said its officers responded to a report of a white Hispanic male publicly threatening to commit suicide with a gun. "Police Officers made contact with two individuals," Kinsey and his autistic patient. However, the statement didn't give a reason why Kinsey was shot. Instead, it said the officer involved, who is Hispanic, has been put on administrative leave. Officials are investigating the incident.
"Mr. Kinsey did everything right," Rivera said, according to USA Today. "What the officer didn't know was the white individual's intentions. He thought Mr. Kinsey was about to be killed."
Riviera also read from the officer's personal statement. Via WSVN: "I took this job to save lives and help people. I did what I had to do in a split second to accomplish that and hate to hear others paint me as something I'm not."
–
Follow Alberto Luperon on Twitter (@Alberto Luperon)
Have a tip we should know? [email protected]