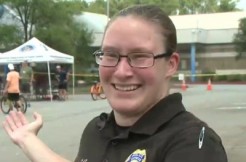 Amanda Clay, a police officer for the Alpharetta Police Department in Georgia, had something to say during an 11 Alive interview published Thursday.
"It has to do with our society today," a tearful Clay said at an event for iCan Bike. "People look at me, and they see a police officer, but I'm more than a uniform. I'm more than arresting people. I can make a difference, and for these 40 kids, I have."
"We can do great things if we just work past our differences, and work toward our potential," she said.
Clay told LawNewz.com that she's the camp director for the iCan Bike Camp in Alpharetta, scheduled to run July 18 to July 22. The event seeks to teach special needs children how to ride two-wheel bikes.
"Research shows that over 80% of people with Autism and 90% of people with Down syndrome never experience this thrill," an event description stated. "Defying these odds is why we exist."
–
Follow Alberto Luperon on Twitter (@Alberto Luperon)
Have a tip we should know? [email protected]