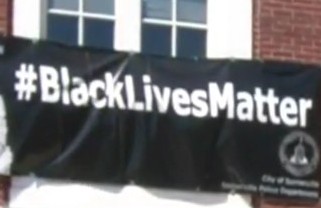 On Tuesday, a police union in Somerville, Massachusetts told Mayor Joseph Curtatone that he must replace the "Black Lives Matter" banner displayed at City Hall with one that reads "All Lives Matter."
"It is inconceivable to us as it is demoralizing that our City would propagate its support for this movement while standing silent over the seemingly daily protest assassinations of innocent police officers around the county," The Somerville Police Employees Association wrote.
Though they supported "well-intentioned" Black Lives Matter activists, and opposed excessive force by law enforcement, the police union said others are "provoked" to attack cops in the name of that movement.
"For example, the sniper that murdered five Dallas police officers in cold blood and wounded seven more, has been linked to the Black Lives Matter movement," they said, also citing other incidents of violence against cops.
The union "fully endorses the proposition that black lives matter just as much as" other races, and that other Black Lives Matter activists should have the right to protest "injustice."
"At the same time, we strongly object to a public banner sponsored by the City that impliedly paints police officers as the killers of innocent citizens of color when there is no evidence whatsoever that the police officers in the City are in anyway using their police powers in a discriminatory or unlawful way," they wrote.
Now they want the banner to be replaced by one that reads, "All Lives Matter," to show support for officers who've been murdered, and to acknowledge that most cops only use deadly force to protect themselves or others.
The letter didn't change Curtatone's mind. From a statement obtained by LawNewz.com.
My unwavering support for our police officers does not and cannot preempt our commitment to addressing systemic racism in our nation. The City of Somerville stands against all violence and all injustice, which is why a Black Lives Matter banner hangs at City Hall and why a banner in honor of the slain officers is hanging at Somerville Police Headquarters where it would provide the most moral support to our officers—both on my order. Both banners will remain hanging. I've made very clear to our officers that we should be thankful for—and reinforce—what we have here in Somerville: a safer community thanks to the highest quality policing by a force dedicated to community policing, de-escalation, proper use of force, and anti-bias awareness. Peaceful protest to end violence and injustice stands at the core of our nation's values and our democracy and we will continue our peaceful protest via the banner. Violence is never justified, and that is the message that both of our banners— for Black Lives Matter and for the slain officers—are intended to make.
And what about local Somerville police? What do they say about it? Do they want it down? At least one said it's not his place to say.
"I don't think the police department or the union should get involved in politics," Police Chief David Fallon said in a press conference, when asked if he thought the BLM banner should go down. He said Mayor Curtatone was a huge supporter of his department, but couldn't answer how many of his officers supported (or opposed) the banner. "I'm not sure if they were asked before the letter went out, their feelings on it," he said.
And his opinion on BLM?
"It's not for me to decide if their fears are real or perceived," he said, stating that community outreach was essential to engendering trust between law enforcement and the public.
–
Follow Alberto Luperon on Twitter (@Alberto Luperon)
Have a tip we should know? [email protected]