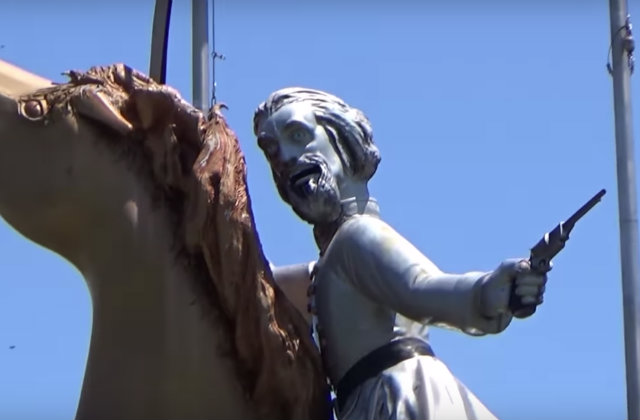 Wednesday morning, a statue of Confederate General Nathan Bedford Forrest was painted pink by vandals off I-65 in Tennessee. Yes, that Nathan Bedford Forrest, an early member of the Ku Klux Klan. The statue sits on local man Bill Dorris's private property, according to News 2. It was vandalized the same way this last September 11, but authorities haven't named any suspects. Even before that, the general's memorable facial expression caught flak from late-night talk show host James Corden. But what makes this statue most odd is its history.
Sculptor Jack Kershaw was an attorney who once represented James Earl Ray, the assassin of Dr. Martin Luther King Jr. Ray, who pleaded guilty to the murder, started claiming he was pulled into a conspiracy involving a man named "Raul." Kershaw argued this on his client's behalf, even appearing before Congress, according to his obituary in The New York Times (he passed away in 2010 at 96). This attorney-client relationship didn't end well. Kershaw convinced Ray to do a Playboy interview but that blew up in their faces. The magazine subjected Ray to a lie detector test, and determined that he lied when claiming he didn't kill King. Oh, and the outlet paid Kershaw $11,000 for the interview. Ray didn't like that, and fired him.
As for the statue, that has been up since 1998. Kershaw, facing criticism, was clear about his intent.
"Somebody needs to say a good word for slavery," he told The Times-Picayune of New Orleans, according to the NYT obit. He also cofounded the League of the South, a pro-Confederacy organization.
[Screengrab via The Carpetbagger on YouTube]
Have a tip we should know? [email protected]