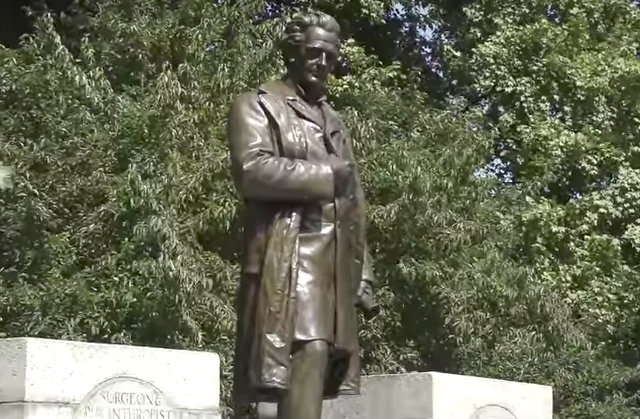 A statue of Dr. J. Marion Sims, the founder of gynecology, stands on Fifth Avenue and 103rd street in East Harlem. And, at least until Sunday afternoon, its back-end was spray-painted with the word "Racist." WCBS 880 reported that his eyes and neck were also graffitied.
No one has been arrested for the incident. The New York Police Department is investigating.
Sims, an Alabama native, revolutionized the way doctors treat fistulas, and set the stage for modern gynecology. His research culminated in 1849. Problem was, he perfected his treatment on slave women, who, at best, were not in a position to say no to a white man. And he did it all without anesthesia. Despite initial fame, his stock fell in the 1970s thanks to changing attitudes about race in America, according to a New York Times profile. In any case, he claimed that his patients wanted him to perform the treatments.
The vandalism comes after New York City Council Speaker Melissa Mark-Viverito and other local leaders called for the statue's removal.
"At a time when Neo-Nazis, white nationalists and hateful right wing extremists run rampant throughout the country with impunity, we must send a definitive message that the despicable acts of J. Marion Sims are repugnant and reprehensible," she said on Monday. "J. Marion Sims conducted horrific, painful, medical atrocities on non-anesthetized enslaved Black women with free-reign. Mayor de Blasio and the Parks Department must remove this repugnant statue from our neighborhood once and for all."
[Screengrab via NYC Council]
Have a tip we should know? [email protected]