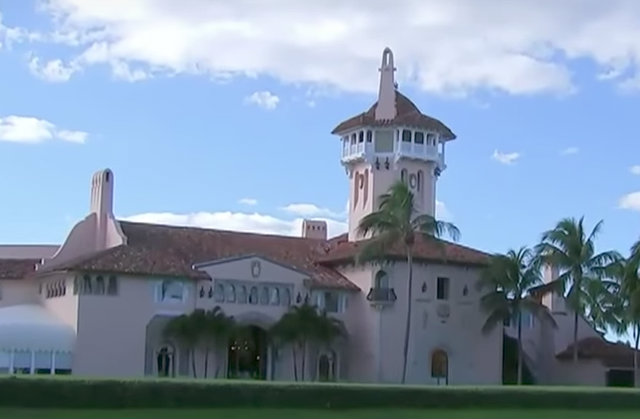 As tropical storm Harvey batters its way through Texas, flooding the Gulf Coast at unprecedented levels, it might be interesting to look at President Donald Trump's own relationship with hurricanes, or the lack thereof.
In October, The Associated Press reported that the then-candidate claimed to have taken $17 million in insurance money for storm damage to his Mar-a-Lago resort in Palm Beach, Florida.
"Landscaping, roofing, walls, painting, leaks, artwork in the — you know, the great tapestries, tiles, Spanish tiles, the beach, the erosion," he said in a 2007 deposition. "It's still not what it was."
That was news to other locals and former Trump employees. Former butler Anthony Senecal told the AP that only some nearby trees were flattened and some roof titles were knocked off. He claimed to be there for the series of storms, from 2004 to 2005, that supposedly caused such expensive damage to the resort. (Trump disavowed Senecal in an unrelated May 2016 Facebook post because the former butler called for the assassination of Barack Obama. The then-candidate said he fired him in 2009.)
The Associated Press looked at construction permits from after the 2004 and 2005 hurricane seasons, and only found documentation for small projects, like tree trimming. The only stuff that reportedly appeared hurricane-related was $3,000 to vacuum sand from a beachfront pool, and to fix outdoor lighting.
Tim Frank, the planning administrator for Palm Beach back in the 2004 and 2005 hurricane seasons, claimed it would have been highly unlikely for the resort to get away with work without a permit. $17 million worth of labor would've required too many laborers to keep quiet. He said locals were quick to call in suspected code violations.
"If there were $17 million dollars of damage, we sure as hell would have known about that," he said. "I would have known if there was anything in the magnitude of $100,000."
Even then-Mayor Jack McDonald, a Republican, told the AP that storm damage wasn't enough to justify a $17 million payout.
"I am unable to comprehend $17 million in reimbursable damage," he said.
Trump declined to give the AP relevant records about the insurance claim, or to even comment on the Mar-a-Lago hurricane damage. Hank Stein, the insurance adjuster who assessed the claim, told the AP there was some water damage to an observation deck, a golf course, roof, and landscape, but said he couldn't remember the details.
"I wish I could give you some more information on the breakdown," he said.
The AP could not identify which insurer paid the $17 million, and Trump did not mention it in the deposition. LawNewz.com reached out to the Trump Organization for comment.
[Screengrab via TODAY]
Have a tip we should know? [email protected]