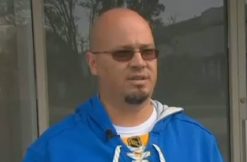 David Daugherty claims nobody had sex at a late September golf tournament in Columbia, Illinois. He was just trying to raise money on behalf of Make-A-Wish.
"It's cute girls in bikinis serving drinks," he told KMOV in a Thursday report. "That's it."
Except police are now charging him with deceptive practice after no one apparently donated money.
Daugherty said he did everything legit, but the fundraiser lost money because of low attendance, he said. Plus, he complied when Make-A-Wish contacted him the day before the fundraiser, and told him to stop using their name. And yes, a Make-a-Wish spokesperson confirmed to KMOV that he was never licensed to use their name, and that they had nothing to do with the tournament.
So that's awkward enough. But now the outlet also reports that sex acts allegedly took place at the tournament. They obtained heavily censored photos of women, purportedly doing sex acts for cash. Sometimes the golfers participated. At least, that's according to one purported attendee.
Again, Daugherty said he never saw things go that far. In fact, he claims police were actually called to the tournament, and he showed them around. Nothing really outrageous happened, he claimed.
"I rode around on the golf cart with the cops," he said. I did see a girl with her top off at one time."
For now, there are no charges connected to the purported sex acts, but the police want to identify the people in the pictures.
Daugherty claimed that's got nothing to do with him, though. "If people take clothes off, not my responsibility," he said.
–
Follow Alberto on Twitter (@Alberto Luperon)
Have a tip we should know? [email protected]