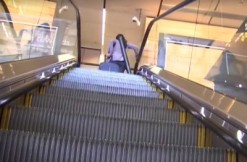 In Washington State, a TSA agent was arrested for allegedly taking a cell phone picture up at least one woman's skirt. It started on June 29, when video game developer John Comes tweeted that he saw something shocking at Seattle-Tacoma International Airport:
I literally just saw a @TSA agent taking a picture up a woman's skirt on the escalator.

— John Comes (@JohnComes) June 29, 2016
It's unclear if Comes's tweet triggered the investigation, though he said he reached out to authorities, according to KIRO7. After that, TSA authorities and Port of Seattle police started keeping one security agent, 29-year-old Nicholas James Fernandez, under surveillance. Investigators allegedly caught him making a cell phone recording up one woman's skirt Tuesday, and he was arrested that day. They suspect there could be more victims.
The TSA told LawNewz.com that Fernandez is on unpaid indefinite suspension.
"TSA does not tolerate illegal, unethical or immoral conduct," they wrote in a statement. "When such conduct is alleged, TSA investigates it thoroughly. When appropriate, TSA investigates jointly with other law enforcement agencies or requests that a law enforcement authority investigate the allegation. When an investigation finds that misconduct has occurred, the appropriate action is taken."
We checked the jail records, as of Thursday morning, Fernandez remains locked up at the Regional Justice Center in Kent, Washington. He's been held on $7,500 bond, and faces one count of voyeurism. If convicted for this Class C felony, he could spend up to five years in prison.
–
Follow Alberto Luperon on Twitter (@Alberto Luperon)
Have a tip we should know? [email protected]