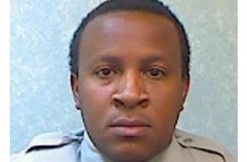 A police officer in Maryland has been indicted for allegedly taking creepy pictures of women.
The Prince George's County Police Department has announced that Officer James Sims faces two counts of misconduct in office and four counts of visual surveillance with prurient intent.
"On June 1, 2016, a citizen filed a complaint against Sims alleging the officer took inappropriate photos of her at a store in Bowie," the statement reads.
Sims got suspended that same day, and the State's Attorney's office were told about the allegation. Officials say that their investigation turned up other incidents: They claim Sims took "inappropriate photos" of at least two women drivers with his phone's camera over the course of the past year.
His boss, Police Chief Hank Stawinski, has all but disowned him.
"We immediately took this case to the State's Attorney's Office in anticipation of criminal charges being placed against POFC Sims," he said. "I find the conduct alleged to be disgusting. Policing is an honorable profession. One of service. One built on trust. If proven true, he will have betrayed the trust of this community."
Sims remains suspended.
–
Follow Alberto Luperon on Twitter (@Alberto Luperon)
Have a tip we should know? [email protected]