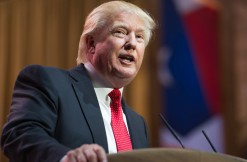 In a motion filed on Friday, ex-students of Trump University want positive, 'non-representative' testimony kept from phase 1 of the trial. It's all part of a class lawsuit working its way through the U.S. District Court, Southern District of California. Plaintiffs say the school was a scam while the defendants, Trump University, LLC and Donald J. Trump himself, want to bring eight pro-school alumni up to the stand.
Plaintiffs insist using the testimony would be absurd. They say that out of 7,611 former students in this and a related lawsuit filed by Art Cohen, only 13 opted out of class action.
"In order to avoid giving the jury a skewed perspective, for each non-representative student called by defendants, plaintiffs should be allowed to call nearly 600 Class members," the motion, obtained by LawNewz.com, reads. "Notwithstanding Trump's public attacks against student-victims who dare to stand up for their rights, there is no shortage of student-victims willing to do so."
They also say that such testimony would be irrelevant because these would focus on the subjective view of witnesses rather than the objective actions of the defendants.
You can read the full motion here:
Trump University Class Action Motion by LawNewz on Scribd
Trump University, which is now defunct, has sparked several lawsuits. There's this one, filed by Sonny Low, J.R. Everett, and John Brown; another one in the federal court system filed by Art Cohen (and presided by Judge Gonazlo Curiel); and a third filed by the New York Attorney General.
[image via Christopher Halloran and Shutterstock]
–
Follow Alberto Luperon on Twitter (@Alberto Luperon)
Have a tip we should know? [email protected]