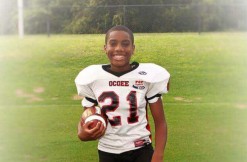 13-year-old Lavardo Fisher was tragically shot and killed Sunday when his cousin, riding a hoverboard, lost balance, and accidentally fired a gun, police in Orange County, Florida say.
The reported shooter, 18-year-old Brandon Louis, hasn't been charged, the Orlando Sentinel reports.

It turns out the gun's owner is now in trouble. Walter Morame, 35, who wasn't there at the scene, now faces a charge of possession of a weapon by a felon. His criminal history marred by a 2006 conviction for battery of a law enforcement officer. This could result in a 15-year prison sentence, and a possible $10,000 fine.
Fisher was playing a video game when Sunday's tragedy apparently happened. All this allegedly set off an attempt to deceive cops. Both Louis and Widmaer Morame (another one of Fisher's cousins and a witness) reportedly lied to investigators, saying the gun belonged to a friend. The police stopped buying the story when officers couldn't find this alleged friend, an official report states.
"I didn't mean to shoot. It was an accident," Louis reportedly told an investigator after they admitted the friend was a lie.
"I don't understand why people are that brave to pick up a gun," Lo Wood, who coaches Fisher's football team, told the Sentinel. "And when it gets down to kids, that's crazy. When it gets to that point, something has to be done."
[h/t Orlando Sentinel, image of Fisher via Facebook]
–
>> Follow Alberto Luperon on Twitter (@Alberto Luperon)
Have a tip we should know? [email protected]