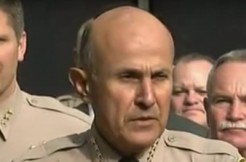 The Los Angeles Sheriff's Department has been utterly embarrased by corruption charges, with 17 current and former members being convicted. The 18th is expected to be the man formerly at the top, ex-Sheriff Lee Baca, according to a press release by the U.S. Department of Justice.
As part of a plea deal filed Wednesday morning in federal court, Baca admitted he lied to the FBI and the U.S. Attorney's Office when he said he didn't know that LASD officials would harass an FBI agent. The incident happened at the agent's home, where Sheriff's deputies reportedly threatened to arrest her.
The feds were investigating misconduct, and physical abuse in LA County's jail system. Deputies reportedly found out about this when they realized one jail inmate was an FBI informant. Cue months of obstruction, in which they tried to hide the inmate from the feds.
On September 25, 2011, senior members of the LASD talked about approaching the FBI agent (in fact, she was the lead investigator). He apparently gave them the okay, and said they "should do everything but put handcuffs" on her, as stated by his plea agreement. Next day, two sergeants came to her house and threatened to arrest her, and Baca played dumb in the ensuing fallout.
Now that apparent act seems to be over. Baca, who resigned in 2014, is expected to enter his plea this afternoon for a felony charge of making a false statement to federal authorities. He'll likely face no more than six months in a federal prison thanks to the deal, though a judge still has to issue the final sentence.
"One of the measures of an organizational culture is how it handles its allegations of misconduct," said David Bowdich, assistant director in charge of the FBI's Los Angeles Field Office. "Mr. Baca set the wrong command climate and allowed that culture to fester, instead of fostering an environment of accountability. In short, he did not lead when he had the opportunity to do so."
[image via screengrab of Associated Press video]
–
>> Follow Alberto Luperon on Twitter (@Alberto Luperon)
Have a tip we should know? [email protected]