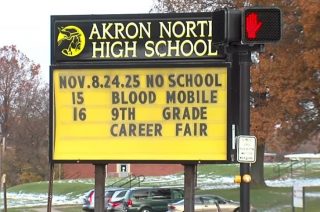 A 14-year-old high school student has been charged after he allegedly concealed an explosive device in a glue stick and threw it inside a classroom. Authorities say that the boy, a freshman at Akron North High School in Ohio, brought a large firecracker that may have been an M-80 to school on October 12, hid it inside the glue stick, and threw towards his teacher's desk.
Cleveland's WEWS reported that the explosive didn't go off, so no one was hurt, but students panicked, running out of the classroom. A police report provided some additional information, saying that the device had a note attached that had the phrases "You will pay," "School Shooter," and the teacher's name. Cops also reportedly found that the student had posted on  Facebook about wanting to kill the teacher, as well as wanting to bring "a grenade to school and blow it up."
Akron Public Schools spokesman Mark Williamson told WEWS that the student was mad at the teacher for giving him an in-school suspension the previous day. He expressed relief that the incident was not as terrible as it could have been. "We are fortunate. Sometimes you're fortunate. In this case, it didn't explode," he said. Williamson said that this is not the first time a potential crisis was averted. "We stop more things than people would ever know. It's not an unusual occurrence to have kids come to school in some emotional distress."
The student was charged with inducing panic, and is scheduled to have a Juvenile Court hearing in December. He is no longer enrolled at North High School, after initially being suspended for 10 days.
[Image via WEWS screengrab]
Have a tip we should know? [email protected]