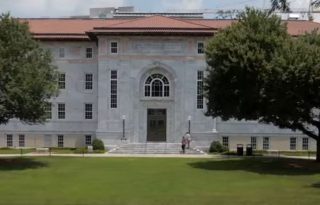 One of the top institutions of higher learning in the country is weighing the possibility of defying potential federal orders in the wake of Donald Trump becoming the new President-elect. During Trump's campaign, he often spoke of a desire to deport all undocumented immigrants from the United States, a number estimated to be roughly 11 million people. While he has since scaled that down to those with criminal records (about 2 or 3 million), undocumented immigrants who are otherwise law-abiding are still worried about what the future could bring. Students at Emory University asked their school's administration to protect those who may be at risk, in a letter asking for the school to become a "sanctuary campus." School President Claire E. Sterk said the university is considering it.
In their letter, students asked that the school "work with local police departments and Emory Police to ensure that Emory's campus and its facilities are protected from ICE [U.S. Immigration and Customs Enforcement] enforcement." They say that the school is within its rights to not comply with ICE, due to a 2011 policy that says the university must give permission for immigration officials to enter the campus. Many students at Emory are undocumented immigrants who are able to stay in the country and go to school as part of President Barack Obama's Deferred Action for Childhood Arrivals (DACA) program. The students also requested that the university use its law school to help provide pro bono legal services for immigrants who may need it.
President Sterk, Interim Provost and Executive Vice President for Academic Affairs Stuart Zola, and Senior Vice President and Dean of Campus Life Ajay Nair,  responded to the students in their own letter, stating, "Emory accepts undocumented students for admission and financial aid under President Obama's Deferred Action for Childhood Arrival (DACA) program. We will continue to welcome and support DACA students as members of our university community." As far as the students' specific requests, the letter said, " Emory's senior leadership will be assessing your letter, and evaluating how best to serve those in our community whose immigration status puts them at risk."
Emory would not be the first school to become a sanctuary campus, should they decide to do so. Wesleyan University declared itself a sanctuary campus on Sunday. Students at schools including Harvard, Yale, and Brown, have also called for similar measures.
Have a tip we should know? [email protected]