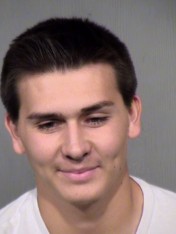 A 19-year-old former Arizona high school football player will not face prosecution on a felony charge related to allegedly exposing himself in a high school yearbook team photo.  The Maricopa County Attorney's Office on Wednesday announced that Hunter Osborn will no longer face the felony charge of furnishing obscene material to minors, according to The Arizona Republic.
"An assessment of the available evidence for the felony charge of furnishing harmful items to minors … leads us to conclude that the evidence does not establish a violation of the statute," Maricopa County Attorney Bill Montgomery said in a statement issued Wednesday.
The dismissal of the county charge does not mean Osborn is out of the legal jeopardy, however.  The newspaper reports that the remaining 69 misdemeanor counts of indecent exposure against Osborn were referred to the Mesa city prosecutor.
As LawNewz.com reported on Tuesday, the charges against Osborn stem from what he says was merely a meant to be prank.  A fellow teammate reportedly dared Osborn to expose his penis above his waistline in a team photo.  That photo ultimately appeared in the school yearbook and was distributed in the team program over several months.
[image via Maricopa County Sheriff's Office]
Have a tip we should know? [email protected]