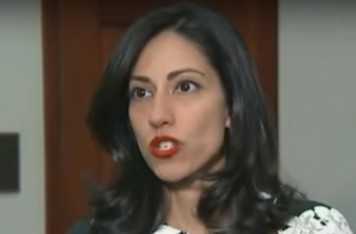 Unidentified U.S. officials close to the Hillary Clinton e-mail investigation told CNN on Thursday that federal investigators have interviewed several of Clinton's closest aides, including her longtime close confidant Huma Abedin.
According to the CNN report, Abedin's lawyers refused to comment, however, the unnamed officials reportedly told the network that Abedin fully cooperated with the FBI in her interview.  The report says the FBI conducted interviews with several Clinton aides over the course of the past couple weeks, however, no other aides were mentioned by name.  While Abedin was said to be have been interviewed only once, several other Clinton aides were reportedly interviewed more than once, according to CNN's sources. Investigators have still not scheduled an interview with Clinton, herself, but the unnamed officials said it was a virtual certainty that she would be interviewed at some point in the investigation.
Contradicting reports from other news outlets that the investigation has expanded to include the Clinton Foundation, CNN's sources say it "remains focused on the security of the server and the handling of classified information."
The FBI, Department of Justice and Clinton's attorney, David Kendall, all had no comment. The Clinton campaign has yet to respond to CNN's request for comment.
This is the second major report related to the Clinton e-mail investigation in as many days.  As LawNewz.com reported on Wednesday, the infamous Romanian hacker Guciffer recently told both NBC News and Fox News that he had hacked Clinton's e-mail while she was serving as Secretary of State. In March, Guciffer was extradited to the United States to faces charges of wire fraud, cyberstalking, identify theft, unauthorized access to computers and obstruction of justice for allegedly hacking the e-mails of several prominent U.S. politicians.
[image via screengrab]
Have a tip we should know? [email protected]