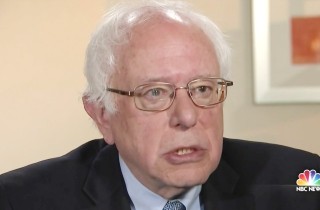 Despite the fact that #DropOutHillary is trending on twitter,  Clinton has 1,683 pledged delegates to Sanders' 1,362 delegates. Bernie only has 39 superdelegates to Clinton's 522. At this point, it is mathematically impossible for Sanders to win the nomination based on pledged delegates alone. CNN summed it up pretty well:
The Democratic nominee must win 2,383 delegates to secure the nomination, but with only 933 delegates up for grabs in the remaining contests, it is impossible for Sanders to get there just by winning contests against front-runner Hillary Clinton. The Vermont senator has racked up 1,444 delegates, according to the latest CNN delegate tally, but would need to win more than 100% of the remaining delegates.
So that means the Democratic primary race is all about the 712 superdelegates right now. Superdelegates are not obligated to vote for either candidate, and they can technically make up their mind anytime before the convention. However, preference polling shows that these delegates, who are made up of the Democratic party establishment, are heavily in favor of Hillary.
An elections historian told LawNewz.com that it would be highly unprecedented for superdelegates to go against the popular vote, and it looks like Clinton is heavily in favor to win that too.  So far, she's won about 12.4 million votes to Bernie's 9.3 million. However, it's not totally impossible for Bernie.
"It has never happened that the superdelegates have voted against the winner of the popular vote. Its never happened, but there are certainly situations where it could happen," said Elaine Kamarck, who is a senior fellow at the Brookings Institute, and author of Primary Politics.
So, how could it happen? Kamarck, who herself is a Clinton superdelegate, told me simply that "something very dramatic would have to happen."
What's so interesting about this whole situation is that now — not only are conservatives calling for Clinton to be put in handcuffs — so are extreme left-wing Bernie supporters.  Take Sanders supporter, H.A. Goodman, who recently penned a piece on Salon.com titled, "Please, FBI — you're our last hope: The Democratic Party's future rests upon your probe of Hillary Clinton's emails."
And he is right, the only way Sanders has a chance is if the FBI quickly wraps up their investigation and levels charges against the presidential hopeful or her aides. That, or some other big scandal erupts.  Let's be honest, whether or not she committed a crime, the chances of actual charges coming down are pretty slim. However, if they do, this would be the event that Sanders supporters are praying for because it would most certainly veer Clinton off the nomination course.
The Sanders' campaign manager likes to bring up the fact, that in 2008, 120 superdelegates switched their allegiance from Clinton to Obama. Therefore, the reasoning goes, Bernie could still pull it off too. But that's actually not entirely true, some did, but not as many as the Bernie camp contends.  In fact, The Washington Post gave Sanders' campaign manager, Jeff Weaver, four big pinocchios for that claim. As the Post stated, many of the delegates were "superdelegates who switched to Obama almost two months after Clinton dropped out of the race, when Clinton was encouraging everyone in the party to support Obama."
In her video explaining what it means to be a superdelegate (above),  Karmack does bring up a hypothetical situation where superdelegates would have changed course in the past. She harkened back to the explosive story involving Democratic presidential John Edwards' extramarital affair. The story ultimately lead to criminal charges involving campaign finance.
"If that story would have come out in May or June of 2008… I can probably guess that a lot of superdelegates, and probably pledged John Edwards delegates would go to the convention and they would say, he looked good in January and February but I'm not going to vote for him," she said.
Yup, the story would have to be that big.
Have a tip we should know? [email protected]
Rachel Stockman - President / On Air Host