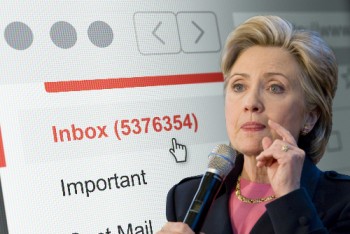 The State Department on Tuesday notified Vice News that it will not release documents responsive to the news outlet's FOIA requests related to the security of Hillary Clinton's e-mail server until after the November election.
According to Vice News reporter Jason Koebler, soon after news broke of Clinton's use of a private e-mail for State Department business, he filed a FOIA request with the State Department seeking "communications, presentations, and procedures created by the State Department to secure Hillary Clinton's email from electronic threats."
In his new report released on Thursday, Koebler describes how despite several promises from the State Department over the course of the past year to expedite the process, he is still waiting for responses about what procedures the State Department created to help keep Clinton's e-mails and private server secure.  Then, on Tuesday, Koebler received an e-mail update from the State Department regarding to "outgoing processing of his request" that informed him the estimated competition date had been stretched out again, until at least December 2016 — one month after the election.
Clinton has repeatedly denied any wrongdoing and said that her e-mails server was never breached.  However, as Koebler notes, the issue of Clinton's private e-mail server security has taken on new importance in the past 24-hours now that the Romanian hacker "Guccifer" has claimed to both NBC News and Fox News that he hacked Clinton's e-mail.  Koebler writes:
The FOIA process is a notorious mess, but it is patently ridiculous that records pertaining to the security practices of someone who stands a very good chance of running the country—and thus being in possession of highly sensitive documents at all times—won't be made available to the public a year and a half after they were requested.

…

The question of whether her emails were secure while on her personal server has repeatedly been raised, and any specific security measures and protocols the State Department drew up would be a pretty good place to start.
[image via shutterstock]
Have a tip we should know? [email protected]