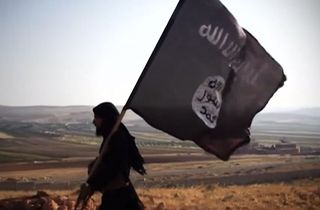 A New York City middle school teacher is in trouble for showing her eighth grade class an ISIS beheading video.
Alexiss Nazario, who taught at the South Bronx Academy for Applied Media, was fined by the the city's Department of Education when she put on the clip for students in October 2014, according to a report by the New York Post.
"This is what's going on in in the real world," she allegedly said. Well, it certainly is.
Investigators interviewed three of the students. They claimed the video showed a masked man with a knife, and a victim who wore orange. Good news: The actual beheading was blacked out. Bad news: The kids saw the aftermath, with the now-dead captive's head put on top of his chest.
"I'm scared at what I just saw," one girl told an investigator. "Ms. Nazario showed a beheading video, and I was really scared. I don't even watch scary videos at home."
Nazario initially told school officials it wasn't her fault. It was the kids who played the video during her lesson on terrorism. She later admitted she'd done it, though.
"I was scrolling looking for a specific video," she told the New York Post Friday. "I clicked on the wrong thing. It was a mistake. It was an error. I freaked out. I had no idea that was playing."
DOE officials were ready to fire her, but an arbitrator, Eugene Ginsberg, stepped in the way, citing Nazario's decades of apparently quality work.
Ms. Nazario had to pay the $300 fine last summer, but the report only surfaced now. She now works as a substitute teacher.
[h/t New York Post]
[image via screengrab of unrelated video]
–
Follow Alberto Luperon on Twitter (@Alberto Luperon)
Have a tip we should know? [email protected]