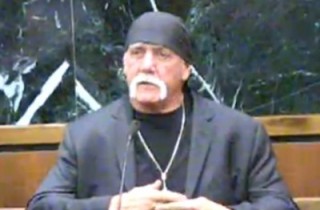 On Friday, a Florida jury awarded Hulk Hogan $115 million in his case against Gawker over excerpts of a sex tape that the site posted online without Hogan's permission. That amount consisted of $60 million for emotional damages and $55 million for economic damages. This is a huge win for the former wrestling champion, real name Terry Bollea, and the sheer magnitude of the award is leaving some people scratching their heads.
Now, it's tough to dispute the calculations that go into emotional damages, because there is no set formula that the jury uses to figure out how distraught a person was in terms of dollars and cents. But economic damages are supposed to be based on concrete evidence of how much money is needed to compensate a plaintiff. So how did the jury reach an exorbitant amount like $55 million?
Turns out, they looked at porn. More specifically, the porn industry, and how they charge for access to celebrity sex tapes. Jurors took the price for basic access for celebrity sex tape vendor Vivid's website  ($4.95, in case you're wondering), as a measurement of how much Hogan could have made had he released and marketed the tape himself, and multiplied that by the number of page views Gawker's post had. They added that to the increase in Gawker's value attributable to Hogan's sex tape, according to Hogan's expert witness. That would make sense if Hogan had planned on actually releasing the video, but his whole argument was that he never wanted it to see the light of day, so it does seem like a bit much.
This is not the largest verdict a Florida jury has come up with, but to give some perspective, let's look at other cases with comparable amounts. In 2006, a Tampa man received $116.7 million in compensatory damages when a hospital misdiagnosed stroke symptoms for a headache, resulting in him being brain damaged and disabled. And in 2013, a Polk County jury awarded $110 million in compensatory damages against a nursing home who they found negligent when a woman repeatedly fell while living there under insufficient supervision. She died at age 69. Another jury in the same county awarded $114 million against the same defendants in a separate nursing home abuse trial. These are all much more serious situations that involved tragic physical consequences. It is hard to believe that an already-wealthy celebrity who didn't suffer any physical harm is in that same league.
It seems like the jury wanted to hit Gawker hard, which is why they granted an award that was higher than the $100 million that Hogan sued for in the first place. And this is still before they decided on punitive damages, which will likely be determined on Monday.
Click here to watch the live feed from the courtroom to catch the announcement of the punitive damages when the jury finishes their deliberations. Stay with LawNewz.com for more on this case.
[Image via Meredith Lamb/Shutterstock]
Have a tip we should know? [email protected]