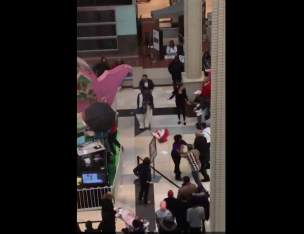 The yearly tradition of going to the mall to get a picture with the Easter Bunny might be forever ruined for dozens of Jersey City children after a fight broke out between a parent and the bunny at the Newport Centre Mall on Sunday.
According to police, a 22-year-old man playing the role of Peter Cottontail said he was attacked by an angry parent after a young girl slipped off her stool after taking a picture with the bunny.  Both the bunny and the parent were taken to the hospital for minor injuries and the police said no charges have been filed because they are still interviewing witnesses to determine who initiated the attack.
A bystander captured video of the fight already in progress and posted it on Twitter last night.  In the video you can see a man in a bunny suit — minus the head — emerge from a pile and briefly walk away before throwing down his gloves and charging back at another man to resume the fight.
As one can imagine, it is all downhill from there as frightened parents and mall security attempt to break up the fight.  There is everything from "curb-stomping" to kicking a man while he is down and even the women get in on the action.
WARNING — Some might find the language (and pictures) offensive.

WATCH via Twitter @2jrb123:
Easter bunny throwin the hands @ Newport Lmfaoo pt1 pic.twitter.com/Y7goiuf4Ap

— Kev (@2jrb123) March 20, 2016
Pt 2 pic.twitter.com/Gax2z8TPZV

— Kev (@2jrb123) March 20, 2016
[h/t NJ.com; image via screengrab]
Have a tip we should know? ti[email protected]