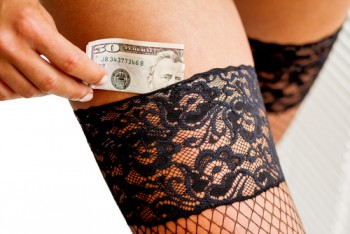 A massive FBI led multi-agency dragnet cast around the Bay Area during Super Bowl week netted over 200 arrests for prostitution and other offenses related to the sex trade, according to the FBI.
The feds picked up 12 pimps, 85 johns and 129 prostitutes during the Super Bowl week sweep.  Additionally, seven juveniles — who ranged in age from 14 to 17 — were rescued from forced prostitution. Some of the rescued teens had been previously reported missing by their parents, according to the FBI.
"High-profile special events, which draw large crowds, have become lucrative opportunities for sex trafficking criminal enterprises," said Bertram Fairries, FBI Assistant Special Agent in Charge of the San Francisco Field Office.
Law enforcement agencies from across the Bay Area participated in the operation that was planned months in advance leading up to the Super Bowl.  According to Alameda County Sheriff's Office spokesman Sgt. Ray Kelly, deputies arrested Nelson Blackburn, 37, of Sacramento, and charged him with pimping and exploiting a teenager with developmental disabilities.
The Denver Broncos sent practice squad member, Ryan Murphy, home after he was questioned in a prostitution sting on February 2. He was not charged, but his brother was cited for solicitation.
The FBI led Super Bowl operation was part of the Innocence Lost National Initiative, created in 2003 to address the growing problem of human trafficking.
[image via shutterstock]
Have a tip we should know? [email protected]