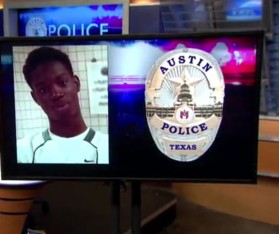 A Texas police officer shot and killed a naked 17-year-old in North Austin on Monday. The cop was responding to numerous calls about a disturbance and someone acting "erratically" in the area, according to Austin police Chief of Staff Brian Manley.
The 17-year-old, David Joseph and the officer, Geoffrey Freeman, are both African American.
According to Manley, Freeman arrived on scene in response to the disturbance call where several witnesses informed him that they saw a man chasing another man through the apartment complex. A short time later, police received another call from a few blocks over and dispatched Freeman to that scene where he found Joseph lying naked in the street. Police allege that Joseph charged at Freeman as soon as he exited his vehicle, so the officer opened fire and the whole incident was over in seconds.
Joseph's family attorney, Scott Medlock, said the family is shocked and saddened by the incident and they have questions about how much of threat one could pose under the alleged circumstances.
"His mother wants to know why this happened, why her son would be found in this state and why they would respond by shooting him," said Metlock in an interview with the Austin Statesmen.
The Austin Police Department has opened an investigation into the matter.  Freeman – who joined the Austin Police Department in 2005 — is on paid administrative leave. His dashcam did not capture the entire shooting and it is unclear if he was wearing a body camera.
[h/t Austin Statesman image via screengrab]
Have a tip we should know? [email protected]