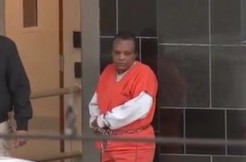 A Texas couple has been accused of making their hired nanny a slave. Chudy Nsobundu, 56, and wife Sandra Nsobundu, 50, were arrested Monday on federal charges of forced labor, visa fraud, conspiracy to harbor an alien, and withholding documents.
The feds claim the couple, from a suburb of Houston, degraded and abused their 38-year-old nanny, according to an affidavit obtained by LawNewz.com. They called her "the idiot," and forced her to only eat their leftover food. She was allegedly slapped, prohibited from washing her hair and even taking hot baths.
It allegedly started in 2013, when the nanny, named in the criminal complaint as "A.E.," came to the United States from Lagos in Nigeria. The couple, fellow countrymen, were themselves naturalized U.S. citizens. A.E. signed a five-year "contract" with the Nsobundu family to watch over their five children.
But when she came to America, things quickly changed. The defendants allegedly stole her passport, threw away her stuff, and forced her to work shifts going from 5:30 a.m. to the next day at 1 a.m.. She was reportedly hit "one to two times a week by Mrs. Nsobundu."
The affidavit keeps going: "Mrs. Nsobundu then said she would shoot her and kill her for not taking care of the babies how she wanted them cared for. A.E. felt pain from her hair being pulled and had bruising on her face from where the slipper hit her."
A.E. only escaped in October, reportedly by calling a human trafficking hotline. You can read the affidavit here:
Federal complaint against Chudy Nsobundu
This should go without saying, but the 13th Amendment of the U.S. Constitution bars slavery and "involuntary servitude," giving Congress legislative power to squash any such instances.
There is already a jury trial scheduled for March 1, but for an apparently unrelated misdemeanor. Chudy Nsobundu allegedly interrupted a 911 call Sandra was making in Jan. 2015. His attorney Wayne Heller seems pretty confident that charge will be dismissed. The case was just about a husband and wife arguing, "nothing really newsworthy," he told The Daily Beast.
Chudy and Sandra Nsobundu were released on bond after a Tuesday hearing in federal court A  lawyer declined to comment, according KPRC. If convicted, the couple faces up to 60 years in prison.
[h/t The Daily Beast]
[image of Sandra Nsobundu via KPRC screengrab]
–
>> Follow Alberto Luperon on Twitter (@Alberto Luperon)
Have a tip we should know? [email protected]