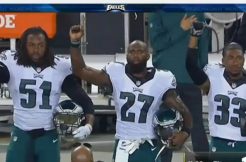 Belmont University announced that the student who made a violent, racist post on social media is no longer with the school. Here's the deal. On Monday, three players for the Philadelphia Eagles, all black, raised their fists during the National Anthem at a game in Chicago. This apparently triggered someone who complained on Snapchat.
"Piece of s—t n—–s," this person wrote. "Every one of them needs a damn bullet in their head. If you don't like this county get the hell out."
New York Daily News columnist Shaun King caught wind of the post, and identified the author as a student at Belmont University. [Please note the following tweet features uncensored, foul language.]
A freshman @BelmontUniv posted this last night. It's a Christian school.

America. 2016. Racism is alive and well. pic.twitter.com/AtmFV2KDgG

— Shaun King (@ShaunKing) September 20, 2016
Well, Belmont, a private school in Tennessee, sent the following statements on Tuesday. The student, who remains unnamed in reports, is no longer there.
Belmont rejects comments rooted in racism or bigotry. See statement below. pic.twitter.com/xHvJKn5su5

— Belmont University (@BelmontUniv) September 20, 2016
@ShaunKing After investigating the racist social media post, the person involved is no longer a student at Belmont. pic.twitter.com/0EVgExqMEy

— Belmont University (@BelmontUniv) September 20, 2016
The language is ambiguous, so it was not immediately clear if the student left voluntarily or was expelled. Also, King disputed the school's claim:
Your statement is misleading @BelmontUniv. He was a student there this morning when you pulled him out of class. Students told me as much. https://t.co/K2zSUIqM7b

— Shaun King (@ShaunKing) September 20, 2016
We reached out to Belmont for clarification, and the University confirmed that the student "did not leave on their own."
The raised black power fists is a potent image in U.S. culture. Those Eagles players—cornerback Ron Brooks, safety Malcolm Jenkins, and defensive end Steven Means—seem to be echoing the protest of San Francisco 49ers quarterback Colin Kaepernick. He's been kneeling during the Anthem in opposition to police brutality against people of color.
[screengrab via NBC]
Update – 6:17 p.m.: Belmont University responded to our requests for comment, and we changed the article accordingly.
–
Follow Alberto Luperon on Twitter (@Alberto Luperon)
Have a tip we should know? [email protected]