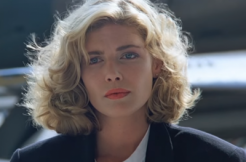 Kelly McGillis, lead actress in the 1986 film Top Gun, was allegedly attacked at her home on June 17.
Sheriff's deputies in Henderson County, North Carolina arrested Laurence Marie Dorn, 38, for the alleged incident. She's been charged with second-degree burglary, misdemeanor larceny, misdemeanor stalking, assault and battery, and interfering with emergency communication, WTVD reports.
McGillis wrote about this on her Facebook page. She said she came home at night to find the front door unlocked, and "a stranger" inside.
"I asked her who she is and why she was in my house and she said 'you know why you've been stalking me in Twitter,'" she wrote. "Not true."
McGillis was allegedly punched and scratched while trying to call 911. She eventually escaped the house to flag down a driver, who called authorities.
You can read the full statement here.
Plus she said she's getting a concealed weapons permit because of this.
McGillis played the character Charlie, the love interest of Tom Cruise's character in Top Gun. She now teaches at the NYS3 acting school in North Carolina.
–
Follow Alberto Luperon on Twitter (@Alberto Luperon)
Have a tip we should know? [email protected]