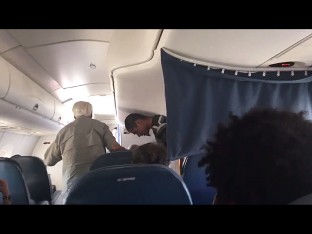 A Delta Airlines jet with scheduled service from San Antonio to Los Angeles was forced to make an emergency landing in Tucson on Wednesday with an escort of F-16 fighter jets after an "unruly" passenger made threats to the flight crew.  Late on Thursday, the FBI announced that the U.S. Attorney's Office is considering whether to file charges against the individual.
According to reports, Delta Airlines Flight 5720 took off from San Antonio to LAX made the emergency landing under military escort around 5:30 p.m. local time on Wednesday.  Passengers on the flight told azcentral.com reporters that a man seemed to be having "some sort of breakdown" during the fight and refused to sit down.  Passenger Ryan Healy captured video of individuals removal and posted it on Twitter.
WATCH:
Video of removal. pic.twitter.com/Hb2cQq1B2j

— Ryan (@ryanhealy) June 23, 2016
As you can see in the video, police quickly boarded the aircraft. The individual wearing a striped shirt is removed from the plane.  An older man who appears to say he is the individual's guardian is told to stay back.
In a statement issued on Thursday, the FBI said they have turned the matter over to the U.S. Attorney's Office who will decide whether to proceed with charging the man.
"The individual was removed from the aircraft by law enforcement without incident and sent for a mental-health evaluation. The aircraft was cleared and was able to resume its planned flight to Los Angeles without further incident," the FBI said, according to azcentral.com.  "The United States Attorney's Office will make the determination on whether charges will be filed against the passenger."
Capt. Scott Bader of the Tucson Airport Authority told reporters once he was informed the military was involved, he knew the situation was "serious."
"The TSA does not take things very lightly," Bader told reporters. "Even if people joke about a gun or a bomb, those are words you just don't use…. Today, with the way terrorism is going, with all the violent threats, if we don't take everything seriously, we are putting the public at risk."
Have a tip we should know? [email protected]