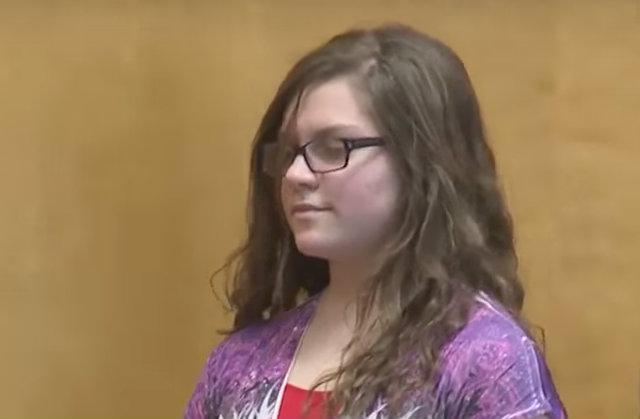 Opening statements began Tuesday in the trial of 15-year-old Anissa Weier, and both sides fought to establish the narrative: Is she, or is she not responsible for what she did? Prosecutors in Waukesha, Wisconsin say she and her friend Morgan Geyser stabbed a fellow classmate 19 times in 2014. The victim survived. This defendant already pleaded guilty to attempted second-degree intentional homicide, but will stand trial on whether she would be held criminally culpable, or would instead be committed.
Her legal team wants to prove that she wasn't responsible for what she did.
"Her broken mind cause her to lose touch with reality," defense lawyer Joseph Smith said. He argued that Weier believed she was serving as a proxy for a supernatural creature, the Slender Man.
—->> WATCH TRIAL LIVE HERE <<—–
He showed police interrogation video where Weier claimed to fear for her loved ones. She described the supposed creature, who was extremely tall, had no face, and could grow tendrils from his back.
"I was really scared, knowing Slender Man could kill my whole family," she said. Smith argued that Weier believed fictional creepypasta accounts of the creature to be real.
Assistant District Attorney Kevin Osborne didn't buy that. He argued that Weier, who was 12 at the time, went along with the murder plot in order to preserve her friendship with Geyser.
"Do they have a delusion that Slender Man exists?" he said. "Maybe." But they were still aware that what they did was wrong. Weier supposedly worried that the creature would've killed her or her family had she not attempted murder. Szczupakiewicz argued she wasn't even aware of that until after the stabbing.
A live stream of the trial can be seen here.
[Screengrab via WISN]
Correction–Sept. 16, 12:24 a.m.: An earlier version of the article incorrectly identified the prosecutor as Deputy District Attorney Ted Szczupakiewicz. He was actually Assistant District Attorney Kevin Osborne.
Have a tip we should know? [email protected]