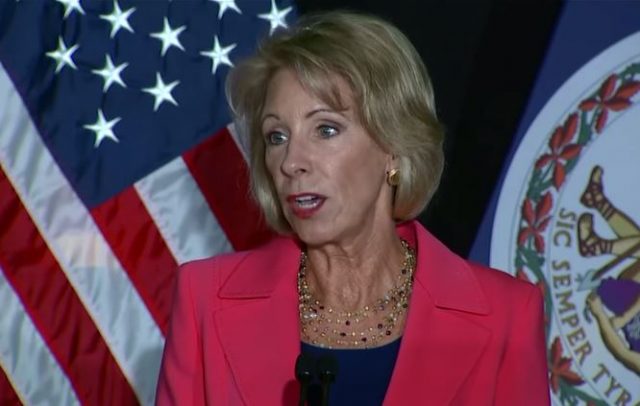 Texas attorney Rob Ranco has resigned after getting significant backlash and media attention for a comment he posted to Twitter over the weekend about Secretary of Education Betsy DeVos. In a tweet which has since been deleted (along with his Twitter account), Ranco said, "I'm not wishing for it… but I'd be ok if #BetsyDeVos was sexually assaulted. #SexualAssault #TitleIX."
The tweet came after DeVos said she would replace current Title IX policies regarding sexual assault on college campuses, expressing belief that some schools do not afford proper due process for students accused of sexual crimes.
The Carlson Law Firm, where Ranco was employed at the time, announced his resignation on Monday in a statement to local KVUE.
With over 150 employees – 75% or whom are women – anyone in our company advocating or even expressing apathy towards sexual assault is affront to all victims and a line that simply cannot be uncrossed.
This has been an enormous distraction that has taken us away from the mission of our firm, which is to care for and help people.
Understanding and accepting this, Rob is taking full responsibility and choosing to resign.
Ranco has since said in a statement:
My tweet from Friday was a mistake. I take full responsibility from it. It was my mistake and nobody else's and I apologize. I'll be working continuously moving forward to make it for my mistake. I hope that Secretary DeVos and anyone else who was offended, impacted, shocked by my actions that they can find it in their hearts to forgive me."
[Image via Washington Post screengrab]
Have a tip we should know? [email protected]