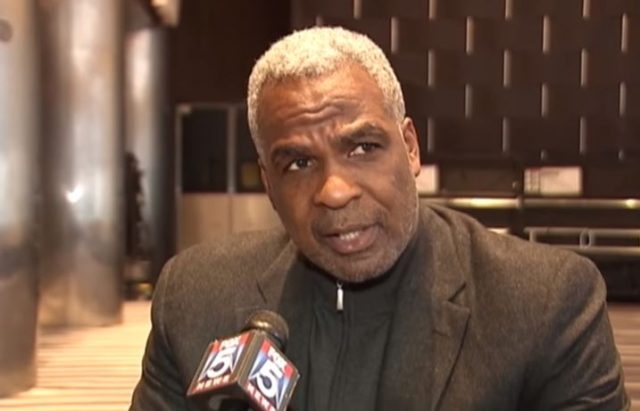 Beloved former New York Knicks player Charles Oakley drew the ire of team owner James Dolan and the support of fans when animosity between the two men reached a high point during a game last season. Oakley was sitting in the stands during a game, when an altercation broke out between him and Madison Square Garden security. Oakley was ejected from his seat and arrested, and afterwards Dolan banned him from the arena and implied that the former player had problems with alcohol use. Now, Oakley is suing Dolan and Madison Square Garden for defamation, and is taking the opportunity to personally blame Dolan for his former team's woes, calling the organization a "laughingstock."
In his lawsuit, Oakley claims he was not acting inappropriately and was not intoxicated when he was in attendance for the February 8, 2017 game. He says it was a coincidence that his seat was a few rows behind Dolan's. "Incredibly, within a few minutes of reaching his seats," the complaint says, "Mr. Oakley was approached by three large men identifying themselves as being members of Madison Square Garden's security team who ordered him, without explanation, to leave the arena." When Oakley asked what the problem was, a security guard allegedly asked, "Why are you sitting so close to Mr. Dolan?"
Oakley tried to go back to his seat, but security allegedly threw him to the ground. The altercation continued from there, as Oakley protested further when he got back up, only to allegedly be sent back down to the ground, placed in restraints, and taken out.
That same day, a Knicks public relations Twitter account posted a statement saying that Oakley "behaved in a highly inappropriate and completely abusive manner." The tweet also said, "we hope he gets some help soon," which Oakley claims implied that he had a substance abuse problem.
Two days later, Dolan made a radio appearance on ESPN's "The Michael Kay Show," where he said,
To me, Charles has got a problem. We've said it before; he's his own worst problem. People have to understand that. He has a problem with anger. He's both physically and verbally abusive. He may have a problem with alcohol.
Oakley insists in is lawsuit that he does not, nor has he ever, had problems with anger, alcohol, or drugs.
"Defendant Dolan's statements were and are entirely without basis in fact, as Defendant Dolan was well aware," the lawsuit alleges.
Oakley's complaint says that he doesn't know what brought on the animosity that's allegedly been directed towards him, but that it goes back for many years. He notes that he and Dolan's paths never crossed while he played for the Knicks, as Dolan inherited control of the team in 1999, after Oakley had already been traded. Oakley claims that he had tried to arrange a meeting with Dolan when he took over the team, but Dolan wouldn't agree to it for unknown reasons. While Dolan allegedly let other retired former Knicks come to games for free, Oakley claims he has always had to pay his own way.
The complaint goes out of its way to take a dig at the state of the Knicks organization. It points out that "the Knicks, once one of the NBA's premier franchises in its largest market," while Oakley was on the team, has since "fallen into disarray, having advanced as far as the second round of the playoffs only twice in the previous ten years." It goes further, placing blame for the team's state squarely on Dolan.
Since Defendant Dolan became chairman of the Knicks, they almost immediately relinquished their status as one of the NBA's premiere teams, winning only a single lone playoff series since the turn of the century.
Oakley's lawsuit also makes a claim of battery for when he was allegedly "physically and forcibly removed" from the Garden, and a claim of false imprisonment based on allegations that he was detained by MSG staff until police showed up to arrest him. The complaint says that Oakley continues to suffer as a result of what happened, and asks for unspecified damages.
In a statement to LawNewz.com, Oakley's attorney Doug Wigdor said, "While the facts of the complaint speak for themselves, Mr. Oakley filed this lawsuit out of principle and his desire to hold Mr. Dolan accountable for his actions which I can assure you that our Firm is committed to doing on his behalf."
The Madison Square Garden Company said in a statement to LawNewz.com, "This is a frivolous lawsuit and nothing more than another attempt by Mr. Oakley to garner attention. We will deal with this accordingly."
Oakley Complaint by LawNewz on Scribd
This article has been updated with a statement from The Madison Square Garden Company.
[Image via screengrab]
Have a tip we should know? [email protected]