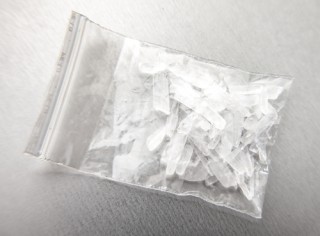 A Missouri sheriff's office is making a bizarre offer to local meth users. A post on the Christian County Sheriff's Office's Facebook page warns that methamphetamine brought in or with ingredients from Texas may be contaminated with Staph or Hepatitis C. Not only that, they're asking users to bring their supply straight to their office for screening. The post says, "If a positive test is detected using our test ampules, a 100% safe collection will take place by our trained Deputies."
So many questions!
First, what is a safe collection? Second, what happens to the drugs that test negative? Third, this is a joke, right?
The whole thing sounds like a scheme to trap drug users into showing up with their stash so they can get arrested for possession, or at the very least, get drugs off the street. I have more questions.
First, are people getting arrested if they heed the warning? Second, are people actually showing up for this?
LawNewz.com reached out to the Christian County Sheriff's Office for some answers, but so far we've got nothing. The kind woman who answered chuckled when told the call was about the meth screening, and transferred the call to the appropriate officer. It went straight to voicemail.
[h/t Kansas City Star, image via Shutterstock]
UPDATE: 6:30 We spoke with Lt. Lofton with the Christian County Sheriff's Office. He told us the following:
1) In terms of arresting people who brought in drugs, he says it depends on "the totality of the situation." It depends on if someone was a repeat offender, the amount they had, if they were selling, or if they just found the drugs and were turning them in. His office would question them and see what the situation is. They also wouldn't arrest anyone right then and there, because the substances would need a lab test before they can arrest them. He said in theory, they could hold someone until they get the results, but that's not the plan for this operation.
2) Not a single person has shown up.
Have a tip we should know? [email protected]