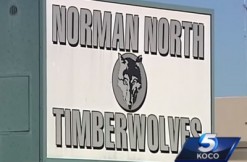 A psychologist who assessed some of the Norman North High School wrestlers who allegedly raped younger teammates with their fingers said he was told it was part of tradition.
"Two wrestlers implicated in this situation stated that the activity in question was part of a tradition in wrestling that had been known by several names, including 'daunching,' 'oil check' and 'goosing,'" psychologist Raymond H. McCaffrey wrote in an evaluation obtained by The Oklahoman. "According to those interviewed while compiling this report, the process consists of a person placing their hand on or near another person's buttocks with the implicit threat that a finger would be interested."
Four wrestlers were arrested in February, and charged with rape by instrumentation. On January 9, they had sexually assaulted their victims—a 12- and 16-year-old—on a bus using their fingers, Garvin County prosecutors said. (One of alleged perps, a 17-year-old, is accused of touching only the younger teammate.) McCaffrey evaluated three of the arrested wrestlers as part of a youthful offender study. The fourth, 18-year-old Tanner Shane Shipman, is being charged as an adult.
"Maybe you can call it assault or maybe hazing, but it wasn't rape," one of the teens said according to McCaffrey's study.
The parents of another teen reportedly told the psychologist he "was 'initiated' into the wrestling group in much the same way." In his report, McCaffrey wrote that "[this second student] did not view the actions that were being done before him as an alleged offense, but rather as part of the group integration." Tradition.
Nonetheless, all three reportedly denied the allegations to the psychologist. He went onto recommend they get processed through the juvenile system. That means they'd only remain incarcerated a few months after their respective 18th birthdays, as long as they complete a rehabilitation program.
Though Norman North is in Cleveland County, Oklahoma, the case is being tried in Garvin County since that's where prosecutors say the alleged incident started. The wrestlers are scheduled for a preliminary hearing on July 7.
[screengrab via KOCO]
–
Follow Alberto Luperon on Twitter (@Alberto Luperon)
Have a tip we should know? [email protected]