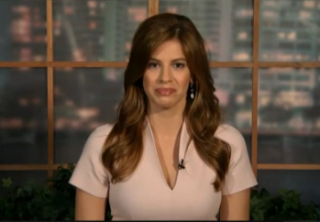 When prosecutors decided not to go forward with a criminal case against Donald Trump's campaign manager Corey Lewandowski for alleged battery of reporter Michelle Fields, Fields hinted that she may file a civil claim for defamation. Now she's saying that she wants an apology.
"That's what I wanted from the very beginning," Fields told The Daily Beast on Friday. "I never wanted this to blow up, never to end up leaving my job. I just wish they had done the right thing from the very beginning and we could all have moved on." But she says Trump's campaign defamed her instead. She lamented the aftermath of the Lewandowski incident, that included her resigning from Breitbart after they seemed to take Lewandowski and Trump's side, and also having to leave her apartment due to death threats.
She doesn't blame Trump himself, but said that he and Lewandowski "handled [the situation] very poorly, and defamed my character." When Fields first made her allegations, Lewandowski went on Twitter, calling her "delusional." Trump also denied everything.
After video surfaced showing that Lewandowski indeed grabbed Fields's arm, Trump fired back by saying that Fields grabbed him. Fields claims that Trump defamed her with that allegation, telling The Daily Beast, "I didn't touch him. I didn't grab him."
Fields said she would have accepted the case against Lewandowski being dropped if he apologized to her. He told CNN on Friday that he called Fields on March 9 but she didn't answer or return the call. Fields denies that this ever happened.
No. I never heard from Corey. https://t.co/ouFcORtppp

— Michelle Fields (@MichelleFields) April 15, 2016

As far as what's next for Fields, she's not sure yet. "I'm taking it day by day and trying to put what happened behind me, then I'll figure it out."
[Screengrab via Fox News]
Have a tip we should know? [email protected]