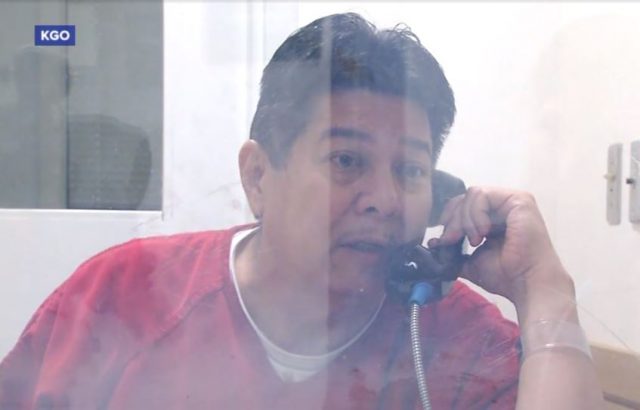 HONOLULU (AP) — A Hawaii psychiatric patient who acknowledges killing a woman nearly four decades ago said Thursday he escaped from his hospital and flew to California to prove he could live responsibly in the community.
Randall Saito told San Francisco television station KGO-TV in an interview that the Hawaii State Hospital wouldn't give him a chance. He says every time he applied for release, officials made him "sound like a bad guy."
"I decided I needed to escape and prove that I'm on my own," Saito said in an interview at a jail in Stockton, California. "That I can be out here and act appropriately. Even though I escaped to do it,"
The 59-year-old Saito was arrested on Wednesday for investigation of felony escape.
He walked out of the hospital in suburban Honolulu on Sunday, got a taxi to the airport and took a charter plane to Maui, where he caught another flight to San Jose, California.
Saito told KGO he flew to San Jose because it was the cheapest ticket.
He said he used fake IDs featuring his photo and another person's name to get past the Transportation Security Administration checkpoint.
He wouldn't say who helped him in the escape.
Saito was acquitted of murder by reason of insanity for the 1979 killing of Sandra Yamashiro. He said he fabricated mental illness — he was diagnosed with sexual sadism and necrophilia — to get into the hospital. But he said he regretted doing so. He also regretted killing Yamashiro.
"I regret the murder. Let's just make that clear. I do have remorse about it. I am absolutely contrite. No one else can be more contrite than I. Because no one is more responsible. What do they want me to do? I can't turn back time," Saito said.
He said he was a substance abuser for three years before the killing.
"I was in bad shape. I was paranoid," he said.
Saito is one of 17 people who have escaped from the 202-bed hospital in the past eight years. Most happened when a patient broke "curfew" and didn't return after being allowed to leave for a period of time.
Saito didn't have privileges to leave the hospital grounds without an escort. Repeated attempt by Saito to win such passes were rejected by the court.
He was allowed to roam the hospital grounds unattended.
Saito was captured Wednesday in Stockton after authorities got a tip from a taxi driver.
It took the hospital at least eight hours to notify law enforcement that Saito was missing. Hawaii Gov. David Ige has said the public and authorities should have been notified much sooner.
The state has placed seven hospital employees on unpaid leave while it investigates the escape. It's also begun reviewing patient privileges and public visitation polices and has ordered more fencing.
Janice Okubo, spokeswoman for the Hawaii State Department of Health, told the AP last year the majority of those who escape are returned within a few days. However in 2009 one person escaped and was missing for nearly three years before being arrested.
[Image via KGO screengrab]
Have a tip we should know? [email protected]