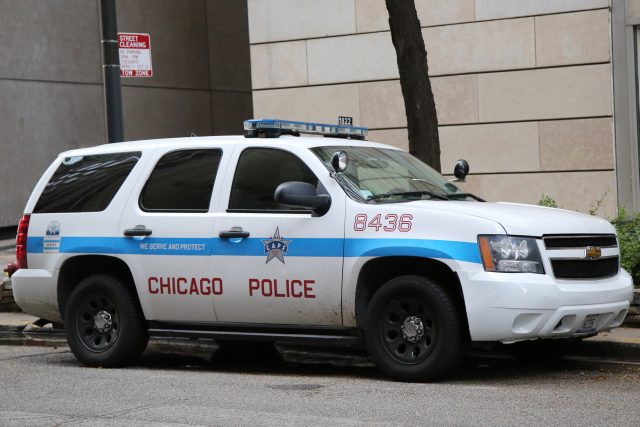 CHICAGO (AP) — One by one, the men told the same story: A Chicago police officer would demand money from them. And if they didn't pay, they would find themselves in handcuffs with drugs stuffed in their pockets.
A Cook County judge on Thursday threw out the felony drug convictions of 15 black men who all say they were locked up for no other reason except that they refused to pay Ronald Watts.
It was the largest mass exoneration in memory in Chicago. And even in a city where it has become almost routine for police misconduct to lead to overturned convictions, the courthouse had never seen anything like the order issued in front of more than a dozen men whose lives were changed forever by the former sergeant.
The men described how it was common for blacks in the city's poorest communities to be shaken down.
"Everyone knew if you're not going to pay Watts, you were going to jail. That's just the way it was going," said Leonard Gipson, 36, who had two convictions tossed out.
The practice, they recalled, was all the more chilling because the officer was so open about it.
"Watts always told me, 'If you're not going to pay me, I'm going to get you.' And every time I ran into him, he put drugs on me," he said. "I went to prison and did 24 months for Watts, and I came back home and he put another case on me."
He and others said there was nothing anyone could do about it. They watched Watts and his crew continue to extort drug dealers and residents, a practice that lasted for years, despite complaints to the police department and statements made during court hearings.
Finally, in 2013, Watts and another officer pleaded guilty to stealing money from an FBI informant, but Watts' sentence of 22 months was shorter than those being handed out to the men he framed.
Thirteen of the 15 men were out of custody before Thursday's hearing, with the other two still behind bars on unrelated charges. Their sentences ranged from nearly a decade to probation. Some said the only reason they were out of custody is that they agreed to plead guilty in exchange for shorter sentences than the drugs planted on them might have produced.
"I had to, I had a baby due," said 33-year-old Marcus Watts, who pleaded guilty to drug charges in exchange for a six-month sentence and a second set of drug charges in exchange for a seven-month sentence. "The way I looked at it was if they put the cuffs on you, you already lost."
Prosecutors asked the judge to act after the conviction-integrity unit of the Cook County State's Attorney's Office reviewed the cases.
"In all good conscience we could not let these convictions stand," said Mark Rotert, who heads the unit.
The office's agreement to throw out the sentences was part of a larger effort to regain public trust, he said.
In the last two years, the city has seen an officer charged in the 2014 shooting death of black teenager Laquan McDonald. Jason Van Dyke is the first Chicago officer in decades to be charged with first-degree murder in an on-duty killing.
Just this week, prosecutors announced they would not retry two men who have long maintained their innocence. One man spent 29 years in prison for a double murder he insists he did not commit. The other spent 27 years in prison in another double murder case involving an officer who has had several convictions overturned amid allegations that he beat suspects and coerced witnesses.
Police said late Thursday that seven police officers who were once part of Watts' crew have been removed from street duties while their conduct years ago is investigated.
When asked earlier about the status of the officers tied to Watts, Superintendent Eddie Johnson noted none had been convicted of a crime and their jobs couldn't be taken from them arbitrarily.
In the cases involving Watts, both prosecutors and defense attorneys suggested that Thursday's order may be just the beginning.
The University of Chicago's Exoneration Project is examining another 12 to 24 cases, but the problem is much larger because Watts was involved in about 1,000 cases and perhaps 500 convictions over eight years, said Joshua Tepfer, a defense attorney with the project.
State's attorney spokesman Robert Foley said prosecutors are investigating dozens of other cases and identified a pattern suggesting "corrupt activity" involving Watts and "members of his crew."
Chicago has paid more than a half billion dollars to settle police misconduct cases in a little more than a decade.
Tepfer would not discuss what the men might do next, but it is almost a certainty that at least some of them will sue the city and the police department. He offered a hint about what those lawsuits might contend.
"These convictions stick with you," he said. "You can't get back the time you served. It affects your ability to get jobs, housing. You get thrown off of public aid with a felony conviction."
This article was written by Don Babwin of the AP.
Have a tip we should know? [email protected]