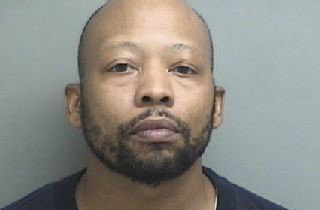 On Wednesday, the Michigan attorney general and Detroit police chief announced charges against Nheru Gowan Littleton, who allegedly made threatening Facebook posts about law enforcement officials.
From AG Bill Schuette's statement (posts were censored for language):
The threats allegedly posted by Littleton include the following:
7/8/16: "To those sniper's in Texas, I commend your bravery and actions!!! #blacklivesmatter."
7/8/16: "All lives can't matter until Black Lives matter!!!! Kill all white cops!!!"
7/8/16: "Kill all white cops!!!"
7/8/16: "Kill all white cops!!!"
7/8/16: "F that!!! Nobody called for prayer after Alton Sterling got shot to death!!! F them police!!!!"
7/8/16: "Yes!!! #blacklivesmatter #purgeoncops"
7/8/16: "Why isn't that white man shot dead!!! #wakeupblackpeople # itsnotagame"
7/8/16: If these racist a white cops want to PURGE on Black Lives!!! Then let's PURGE on these racist a white cops!!! I'm sick of this s !!! If you don't like what I said, UNFRIEND ME!!!! #rugonberue"
7/9/16: "F them racist a white cops!!! Kill them ALL!!! Black Lives Matter!!! Black people should start killing all white cops just like they killing us!!! Then and only then will this s top!!! Why you ask? Because white people will be dropping like flies!!!"
That top post is an obvious reference to Micah Xavier Johnson. On July 7, he murdered five police officers during a Black Lives Matter rally in Dallas, Texas. He was killed after a standoff with cops.
Littleton, who is black, has been charged with making a terroristic threat, and using a computer to commit a crime. Each count carries a potential 20-year prison sentence.
We reached out to the Michigan attorney general's office for more information.
Also, one interesting bit: In August, Wayne County prosecutor Kym Worthy previously declined press charges, citing First Amendment concerns.
Her office sent The Guardian a statement in August. According to them, Littleton "did not indicate that he was the one who was going to kill all white cops, and never said that his Facebook friends should kill all white cops. Further, he did not indicate when all white officers should be killed or which white officers should be killed."
Modern First Amendment case law was shaped a lot by the 1969 U.S. Supreme Court case Brandenburg v. Ohio. The Justices ruled for a KKK member who made an incendiary statement.
"Freedoms of speech and press do not permit a State to forbid advocacy of the use of force or of law violation except where such advocacy is directed to inciting or producing imminent lawless action and is likely to incite or produce such action," the case syllabus reads.
But First Amendment concerns didn't come up when Schuette and Detroit Police Chief James Craig talked about the charges at a Wednesday press conference.
"Threatening the life of a police officer is a threat against our entire community," said Craig. "We take these threats very seriously. I've made a commitment to the men and women of the Detroit Police Department, I will not ignore those who threaten their safety. I refuse to let threats against officers go without a response."
Update – October 6, 8:22 a.m.: Added a note specifying that in Schuette's statement, Littleton's alleged posts were censored for language.
Update – October 7, 3:52 p.m.: We added Littleton's mugshot. He was arraigned Thursday morning, pending $1,000,000 bond.
[mugshot via Michigan Attorney General's Office]
–
Follow Alberto Luperon on Twitter (@Alberto Luperon)
Have a tip we should know? [email protected]