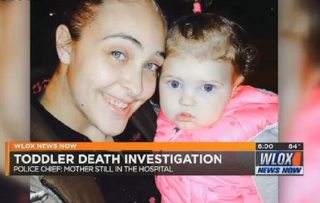 A police officer in Long Beach, Mississippi left her 3-year-old daughter in her patrol car for at least four hours, resulting in the child's death, reportedly from the heat.
Officer Cassie Barker had been on the force for a little more than two years before tragedy struck on Friday. Police Chief Wayne McDowell told WLOX that Barker had just finished her shift when she drove to the home of Officer Clark Ladner. Barker reportedly left her daughter, Cheyenne Hyer, in the car while visited Ladner.
WLOX.com – The News for South Mississippi
Chief McDowell said, "There is a department policy that family members are not allowed in patrol cars, unless the exception is if they're coming or going to or from work to be dropped off at childcare." It is unclear why Cheyenne was in the car, as Ladner was not responsible for her care at the time.
Both Barker and Ladner have been suspended without pay pending an investigation, and the Hancock County Sheriff's Department may press criminal charges against both of them.
So far, autopsy results have not been released, so the cause of death is still unknown for sure. Barker is suffering from trauma as a result of her daughter's death, McDowell said, and she is currently in the hospital.
[Screengrab via WLOX]
Have a tip we should know? [email protected]