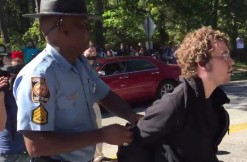 On Saturday, "pro-white" protesters and counterprotesters faced off in Stone Mountain, Georgia.
Eight people were arrested as of late morning, according to the Atlanta Journal-Constitution. At least one protester allegedly pepper sprayed George State Patrol. Officers in riot gear clashed with others.
The eight were cuffed for refusing to remove masks, John Bankhead, a Stone Mountain Park Police spokesman, told the AJC. It's illegal to wear masks at protests in Georgia.
Several protestors rallying against "pro-white" group being detained and taken away. @wsbtv pic.twitter.com/8pWnSoEIXB

— Audrey Washington (@AudreyWSBTV) April 23, 2016
Organizers scheduled the protest, "Rock Stone Mountain," for 11 am on Saturday. And they're pretty up front about their point-of-view.
"This will be an openly Pro White March up Stone Mountain that climaxes in a rally at the top," the Facebook invitation states. "It is to be followed by a Pro White concert at a separate location that evening."
458 people accepted the invite, according to the page. (Remember that number. We'll come back to that later.)
"This is a racial issue," organizer John Estes told CNN. "They [the media, politicians, foreign countries] hate white people, point blank." The event comes after efforts to remove the Confederate flag and other Confederate imagery from the mountain top due to its associations with slavery.
But there are a few counterprotest groups.
There's All Out Atlanta. It's refers to itself as "anti-racist."
"Our solidarity is grounded in a shared opposition to white supremacy," the group said on its website. "In our coordinating efforts, we will not tolerate behavior that perpetuates the oppression of marginalized people."
Then there's Confederates of Michigan. It has said it's not a racist group, and people on its Facebook page say Southern iconography has been wrongly co-opted for racist purposes, according to CNN.
Counterprotesters outnumbered the pro-white ones. Only 30 of the latter showed up as of late morning, according to the AJC. Meanwhile, about 300 others showed up, largely chanting "Black Lives Matter," and Hey hey, ho, ho, the KKK has to go to." They were attempting to head to the main rally site though police had been turning them away.
"We're trying to get to where we can protest them," Craig Clark told the AJC.
[screengrab via WSB-TV]
–
Follow Alberto Luperon on Twitter (@Alberto Luperon)
Have a tip we should know? [email protected]