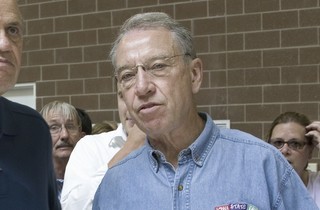 Republican Senator Chuck Grassley suggested on Friday that the FBI would leak their investigation into Democratic presidential candidate Hillary Clinton's email scandal if politics hindered them.
"Is there going to be political interference?" Grassley said at a meeting in Des Moines, according to The Des Moines Register. "If there's enough evidence to prosecute, will there be political interference? And if there's political interference, then I assume that somebody in the FBI is going to leak these reports and it's either going to have an effect politically or it's going to lead to prosecution if there's enough evidence."
Grassley insisted he wasn't trying to support a leak.
"I wouldn't be encouraging it because if it's a violation of law, I can't be encouraging a violation of law," he told Iowa reporter O. Kay Henderson, according to The Register. "This is kind of my own opinion. This is something I've heard."
The FBI is investigating Clinton because she stored work related emails on a private server when she was Secretary of State under Democratic President Barack Obama. Whether she broke a law or not is debatable.
Grassley and Clinton have clashed before. She criticized him over his resistance to Merrick Garland, Obama's nominee to the Supreme Court.
[image via Joseph Sohm / Shutterstock.com]
–
Follow Alberto Luperon on Twitter (@Alberto Luperon)
Have a tip we should know? [email protected]