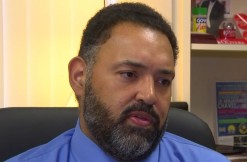 A former Green Beret was sentenced to 24 hours in jail, and was surprised to meet his cellmate—the judge.
This story starts a while ago, before Joe Serna's life started to fall apart. He'd served in the Army for 18 years, ending his career with the 7th Special Forces Group, having served four combat tours, and receiving three Purple Hearts, the Fayette Observer reports. But his experiences changed him. In his first tour in Afghanistan, he survived a roadside bomb that killed another soldier. In June 2008, he made it through a truck accident, the Associated Press reports. It was a close thing, but he'd been saved by Sergeant James Treber. Treber didn't make it. Serna was the only survivor.
Though Serna left the Army, he suffered from PTSD. According to the National Institute of Mental Health, sufferers face a wide range of problems: They experience flashbacks of traumatic events, have terrible dreams, may feel intense guilt, no longer enjoy activities they used to like, have outbursts of anger, are easily startled…it's a long list.
Serna's downward spiral led to a DWI charge, and probation. This led him to the Cumberland County Veterans Treatment Court, run by District Court Judge Lou Olivera, according to WRAL.
His treatment began well enough. He'd appeared before Olivera over 20 times every two weeks. Then one of Serna's urinalysis tests came back positive. Serna admitted to the Fayette Observer that he'd lied about it at first, but then told Olivera the truth.
Olivera did his job: He sentenced Serna for violating the terms of his probation. But what he did next surprised the Green Beret. Olivera accompanied Serna to jail.
"He comes in," Serna told ABC 11. "They close the door and lock it, and this was a one-man cell so we sat on the bunk and I said 'You're here for the entire time with me?' He said, 'Yeah that's what I am doing.' "
Olivera served too. A Gulf War Veteran, according to the Fayette Observer. They spent Serna's jail sentencing talking.
"It was more of a father-son conversation as opposed to a judge talking to someone and sentencing them," Serna told WRAL. "It was personal."
In an interviewed reported by The Washington Post, Olivera said veterans have it hard. Besides physical injuries, war vets suffer from mental problems.
"We see things," Olivera said. "We see friends die in front of us. There are emotional impacts. And those many times cause those soldiers to have difficulties reincorporating themselves into society."
Serna is grateful for the judge's support.
"I cannot even put into words how I feel about him," he told the Fayette Observer. "I look at him as a father. I've seen a lot of things, and this by far is the most compassionate thing I've ever seen anyone give to anybody. I will never let him down again."
[screengrab via ABC 11]
–
Follow Alberto Luperon on Twitter (@Alberto Luperon)
Have a tip we should know? [email protected]