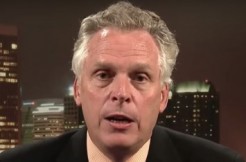 On Friday, Virginia governor and Democrat Terry McAuliffe reinstated voting rights for over 200,000 convicted felons in his state, The New York Times reports. They can now participate in elections if they've finished their prison sentence, including parole or probation.
Most of the people affected are black. McAuliffe said parts of the state Constitution were intended to disenfranchise African-Americans, and he wanted to change that.
"There's no question that we've had a horrible history in voting rights as relates to African-Americans," McAuliffe said Thursday, according to The Times. "We should remedy it."
But it's a politically divisive move which is receiving criticism from state Republicans. McAuliffe issued an executive order, cutting out the GOP-controlled legislature. In a statement, John Whitbeck, Republican Party chairman in Virginia, said voting rights shouldn't have been restored to people who "committed heinous acts of violence." In another statement obtained by The Times, Virginia Republicans blasted McAuliffe, saying he was just fishing for votes.
Until Friday, Virginia was one of four states that instituted lifetime bans on voting for felons. Unless state law starts to reflect the change, his executive order may be open to be reversed in January 2018 when he's scheduled to leave office.
–
Follow Alberto Luperon on Twitter (@Alberto Luperon)
Have a tip we should know? [email protected]