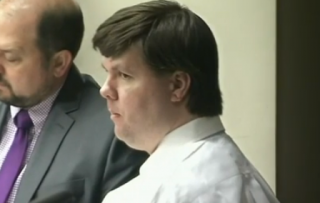 Friday's jury selection for the trial of Justin Ross Harris had quite a mixed bag of characters. There's the phlebotomist who says she has an opinion on the case of the child who died after Harris left him in a hot car, but also said she'd be impartial and listen to evidence. There was also teacher who said "everyone makes mistakes," and a military vet who said no one could make that mistake.
Harris is accused of intentionally leaving his young son in a hot car, while he went to work in an Atlanta suburb. Harris claims it was an accident, but prosecutors are convinced he did it on purpose. Harris is facing murder charges.
Juror 52: "Everyone makes mistakes" but admits bias against #RossHarris #hotcardeath

— Christian Boone (@ReporterJCB) April 22, 2016
Juror 53's opinion of guilt based on "incomprehensibility of anybody leaving a child or animal in the car" #justinrossharris #hotcardeath

— Wild About Trial (@WildAboutTrial) April 22, 2016
Maybe Juror 52 is more open minded after watching "Making a Murderer"
Potential Juror 52 says she watched Making a Murderer and the criminal justice system is "intriguing" to her. #JustinRossHarris #hotcardeath

— Wild About Trial (@WildAboutTrial) April 22, 2016

Great, because if there's anything trial attorneys love, it's a juror who watches legal TV shows.
Perhaps most exciting is that a former NBA player and current basketball commentator is in the jury pool. Identities are being kept anonymous, but according to the Atlanta Journal-Constitution, he was a first-round draft pick and played for three teams in the 2000s. He claimed he doesn't know much about the case, so maybe he'll end up on the jury.
Juror 49, first called today, is a former NBA player: "I really don't know anything about this case" #hotcardeath #RossHarris

— Christian Boone (@ReporterJCB) April 22, 2016
Have a tip we should know? [email protected]