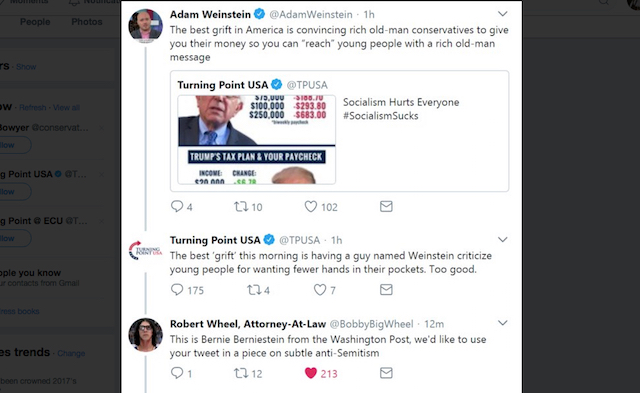 A pro-Trump group is being raked over the coals of WTF after sending an apparently anti-semitic tweet to the editor of a military and veteran's publication earlier today.
Turning Point USA's official Twitter account, @TPUSA, was busy being called out by Task & Purpose's Senior Editor Adam Weinstein, who wrote: "The best grift in America is convincing rich old-man conservatives to give you their money so you can "reach" young people with a rich old-man message."
Weinstein's tweet was in response to a meme shared by Turning Point USA which promoted estimated paycheck increases broken down by income groups under the GOP's proposed tax cut legislation. The meme in question contains five income groups–starting at $20,000 per year and ending at $250,000 per year–and notes estimated paycheck rises starting at $6.78 and ending at $393.24, respectively.
The average millennial makes just shy of $36,000 per year, according to the Bureau of Labor Statistics, so Weinstein was likely commenting on the off-base and mostly irrelevant figures included in a meme aimed at a millennial audience. Turning Point USA's social media editor apparently didn't appreciate the criticism and responded accordingly.
The conservative outfit's official response was:
The best 'grift' this morning is having a guy named Weinstein criticize young people for wanting fewer hands in their pockets. Too good.
(The full exchange has been preserved here for posterity by journalist Jordan Uhl.).
Turning Point USA responded to the outrage by deleting the tweet and saying it was misunderstood. Rather than making an anti-Semitic comment, Turning Point USA was attempting to make a rape joke. Their Twitter account issued the following statement after the tweet disappeared from their feed:
A reply from our account had a joke made in poor taste referencing Harvey Weinstein. The incident has been deleted & handled. We apologize to anyone who read the tweet as derogatory in any other way. We hope to continue positive dialogue in the fight against big government!
Turning Point USA is a far-right 501(c)(3) organization affiliated with various alt-right organizations and public figures. The group was founded by Charlie Kirk when he was still in high school.
Kirk worked on the 2016 Trump presidential campaign as part of its millennial outreach efforts alongside Trump's three adult children. The organization describes its mission as working to "identify, educate, train, and organize students to promote fiscal responsibility, free markets and limited government."
[image via screengrab]
Follow Colin Kalmbacher on Twitter: @colinkalmbacher
Have a tip we should know? [email protected]