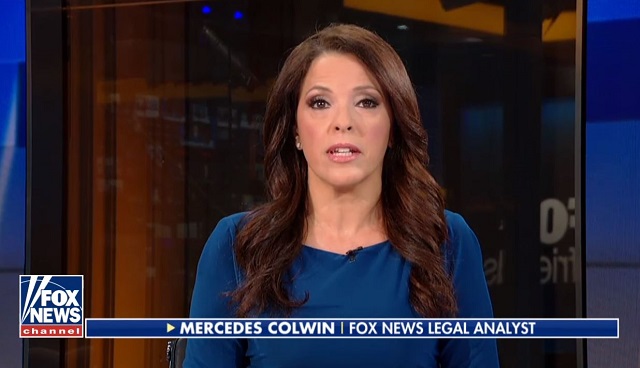 Law&Crime has learned that after Fox News Legal Analyst Mercedes Colwin appeared on Sean Hannity's program discussing sexual harassment, her law firm took swift action, bumping her from the firm's management, promptly replacing her with a man.
Where Colwin is currently just listed as a partner, Robert Modica is now listed as an Office Managing Partner. While there is no reason to believe that Modica is anything less than qualified for the position, there are currently no women in the New York office listed as managing partners.
A look at the firm's directory on their website shows just eight female partners with management roles across in offices spanning the country, compared to more than 35 men.
Colwin got heat for going a step too far in her discussion with Hannity, when she was talking about how false and insubstantial claims of sexual harassment are not only a real thing, but a detriment to victims with legitimate claims. During the segment, Colwin said that those with valid cases are "few and far between." She eventually gave a statement on Fox News clearing up that she doesn't truly believe that real complaints are rare.
"My life experiences, as well as those of friends, colleagues, and family are unfortunately to the contrary," she said. "I sincerely apologize for the confusion and pain this has caused."
Update 11/16/17: In a statement to Law&Crime, Gordon & Rees firm managing partner Dion Cominos said that Modica had already been a managing partner in the New York office when Colwin stepped down. He added that "the firm had appointed partner Virginia Squitieri to co-head the office along with Mr. Modica in replacement of Ms. Colwin." The statement explains, "Thus, for a very brief time, the web site only showed Mr. Modica as the lone NY office managing partner when Ms. Colwin stepped down."
When this article was first published, Modica was not the only listed managing partner, as three other men were also listed with that title. After Cominos provided his explanation, the firm's website was updated to show that Squitieri is also an office managing partner.
Note: Note: Colwin once represented Law&Crime's sister site, TheMarySue.com, in an unrelated matter.
[Image via Fox News screengrab]
Have a tip we should know? [email protected]