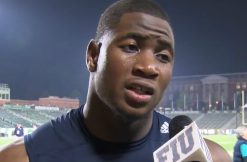 In Florida, Miami Gardens resident Mary Gaspar faces an aggravated battery charge for alleged pouring boiling water on her boyfriend, college football player Jonnu Smith.
Gaspar admitted it to police at Florida International University, according to an affidavit obtained by The Miami Herald. She reportedly told investigators that they'd been arguing because Smith hadn't been putting much attention to the relationship. Gaspar, who is five month's pregnant with Smith's child, said she got so "emotional and stressed" that she boiled a pot of water, then doused it on him. She then hit him when he apparently didn't respond enough, she told cops. The burns—to his head, neck, back, a shoulder, and arm—were severe.
Aggravated battery, a second-degree felony, can net offenders up to 15 years in prison. For now, Gaspar is reportedly free on a pre-trial release order.
Smith is a top player for the FIU football team. Or he was, since his season is now suddenly over. He was considered a serious prospect for 2017 NFL Draft, but his current status remains uncertain.
LawNewz.com reached out to FIU police and the football team for more information, and we are working to contact Gaspar as well. The Herald pointed out a Twitter account that apparently belongs to her, but she's made no public mention on the alleged incident. We sent a message to that account, and will update with any new information.
Update – November 10, 11:03 a.m.: The Twitter account was apparently deleted minutes ago.
[Screengrab via FIU Panthers]
–
Follow Alberto on Twitter (@Alberto Luperon)
Have a tip we should know? [email protected]