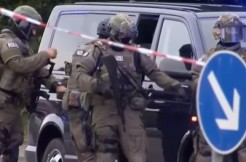 The investigation is ongoing, but police are learning more about the 18-year-old who killed 9 people and wounded 27 at a McDonalds in Munich on Friday, The New York Daily News reports.
He has been identified in media reports as Ali David Sonboly, a German-Iranian. Many of his victims were not from born in-country. Three were from Turkey, three from Kosovo, and one from Greece. The shooter broke into a girl's Facebook account, and lured people to the location with discount offers, said Robert Heimberger, head of Bavaria's police.
Investigators raided his home, according to the Daily News, and haven't found links to ISIS or other Islamic terrorist organizations. They did say there's evidence he was obsessed with mass shooters. One of the books he owned: Why Kids Kill: Inside the Minds of School Shooters, The Guardian reports. That text featured profiles on the perpetrators of the Columbine and Virginia Tech mass shootings.
"Documents were found about mass shootings," said Munich police chief Hubertus Andae, according to the Daily News. "The perpetrator was obviously obsessed with the issue."
The killing happened on the five-year anniversary of a terror attack committed by Anders Breivik. This Norwegian bombed a government building in Oslo, killing 9, and murdered 66 at a summer camp for liberals in Utoya. His politics are obvious at quick glance: He did the Nazi salute during a recent court appearance, and has wanted to start a fascist party.
"This connection [between the Munich shooting and Breivik] is obvious," Andrae said, according to The New York Times.
Video viewed by several news outlets apparently shows the killer arguing with a witness. The killer apparently said things like "I am German," and "F—ing Turks," according to Sky News.
–
Follow Alberto Luperon on Twitter (@Alberto Luperon)
Have a tip we should know? [email protected]